Can 2020 get more surreal?
Sep 11, 2020
Ironic, or is it – that today is 9/11 – a day which rocked the world into a huge state of emergency. Here in California – we are sheltered inside – pretty much sequestered to our homes. The reason – from off -the-charts basically bad air quality due to wildfires across the state of California. Governor Gavin Newsom put it bluntly….this is climate change. He went on to say, "Mother Nature is about three simple things: biology, physics and chemistry."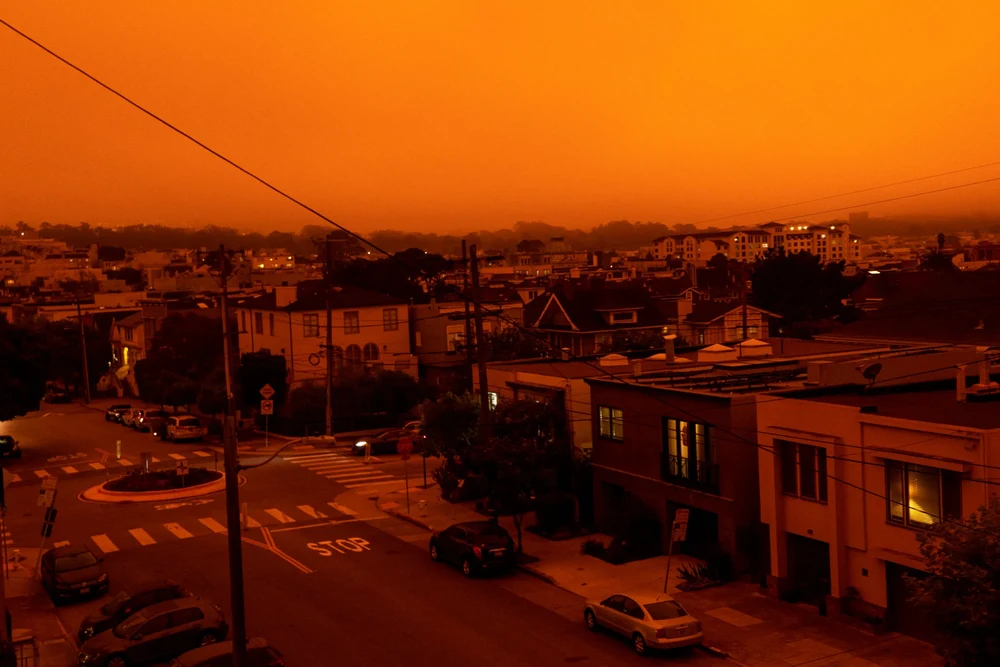 My day began somewhat dark and proceeded to get darker – the photo above was taken right around noon in San Francisco. I worked through the afternoon and then we ordered takeout and then my physical being said STOP.
I felt like I had an electrical charge pulsating throughout my body. It made me pause and stand in the essence of the discomfort. Soon I employed various techniques to regroup from yoga poses to flushing my system with H20. Finally I went to bed chanting the powerful mantra OM. It took almost two days for me to regroup and still today on this momentous day of 9/11 I am heart stricken over that memory and now, over my beloved San Francisco's tinted sky.
Climate change is real. Isn't it about time we all get on the same page? Admit we have to make changes and start living in this new reality in a productive way to meet its challenge?
Zero Foodprint, located here in San Francisco, said it best:
"In fact, we are the emergency. Human activity has caused the unprecedented weather events that have increased in frequency and destructiveness as temperatures rise year by year. Zero Foodprint has been working within the system, asking that food businesses voluntarily add 1% as a fundraiser for carbon farming projects that restore the carbon cycle that has been the foundation of life on Earth for millennia. We have been told that it's too much, too radical, too hard for us to change our business models.
But we're already in a crisis, and at this point, climate denialism is tantamount to terrorism. We are living in fear of the very air we breathe—what could be more terrifying? "
Okay I'll say it. I'm terrified. My heart aches we cannot seem to have a dialogue where our entire collective is working toward the same goal.
I move through my day doing what I can whether it's related to my photography, my wellness calls, my volunteering for climate change causes and my family and friends.
My art pushes me further and my spirit seeks solace holding the intention of a healthy planet.