Onward into the Spring of 2020
Apr 08, 2020
Spring during the time of coronavirus. I find myself with all sorts of mixed thoughts. I've been immersed with work stuff, reorganizing closets, the kitchen, buying a new mop to tackle the floors, Zoom gatherings, webinars, etc. Here in the 23rd day of "shelter in place" what seems to comfort me the most is sinking into meditation, dancing ever so gently to soothing tunes, walks in the Presidio, and communication with loved ones.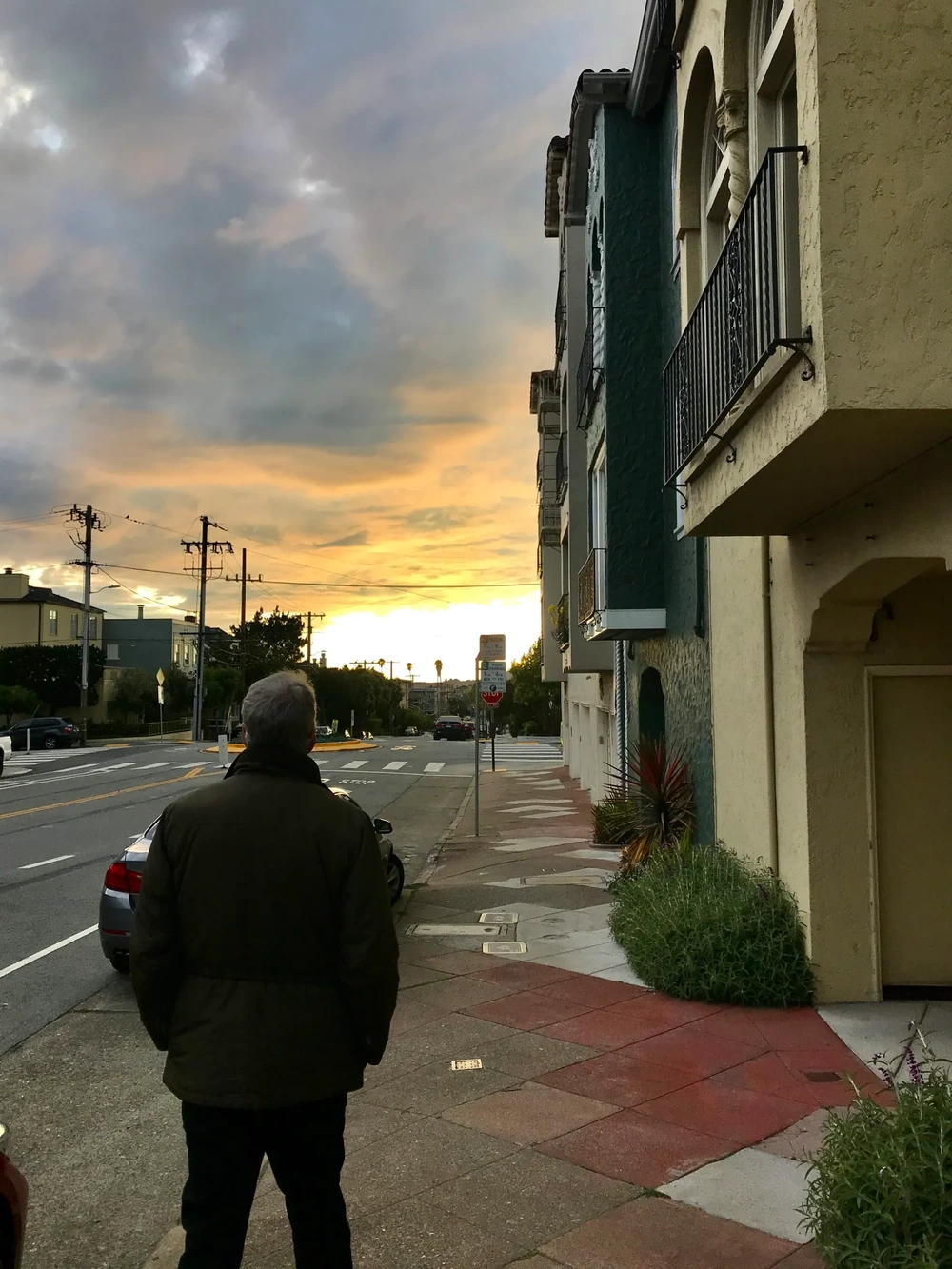 And yes, I take deep breaths as Stephanie Ruhle, anchor on national television, reminds us all to do and to remember that we are all in this together.
I look for small victories. Walking is such a healing act for me. Yesterday I laid on green grass off a walking trail. I let the earth hold me as the sun was drenching me with healing energy. On another walk in our hood, I photographed David, above, walking into what looked like an abyss. It was dusk and the sky was a companion of sorts with its lingering colors. It renewed my hope; just like the rain showers do by nourishing our lands.
I realize how it's okay to be in a state of unknowing and to relax my self-judgment. Whatever I do is okay and as I maintain my own courage during this time I am able to extend my service to others. I do wellness calls to those in need for The Friendship Line. The service offers "a friend" to mostly seniors – and anyone mentally or physically handicapped. I learn so much from my callers. By providing active listening skills to their needs, I am reminded of my own vulnerabilities.
I remember the wise words from a healer years ago – be brave. Better yet, be braver.
I've held on to that. Keep moving, pushing, relaxing, just being. And stretch – not only my body– my mind and heart. Always there is a new trail that keeps opening me to new vistas, new learnings. Elizabeth Gilbert said recently –to feel with your heart and cultivate with your brain.
I am new every day. My camera treks where I do. Companions all around me.